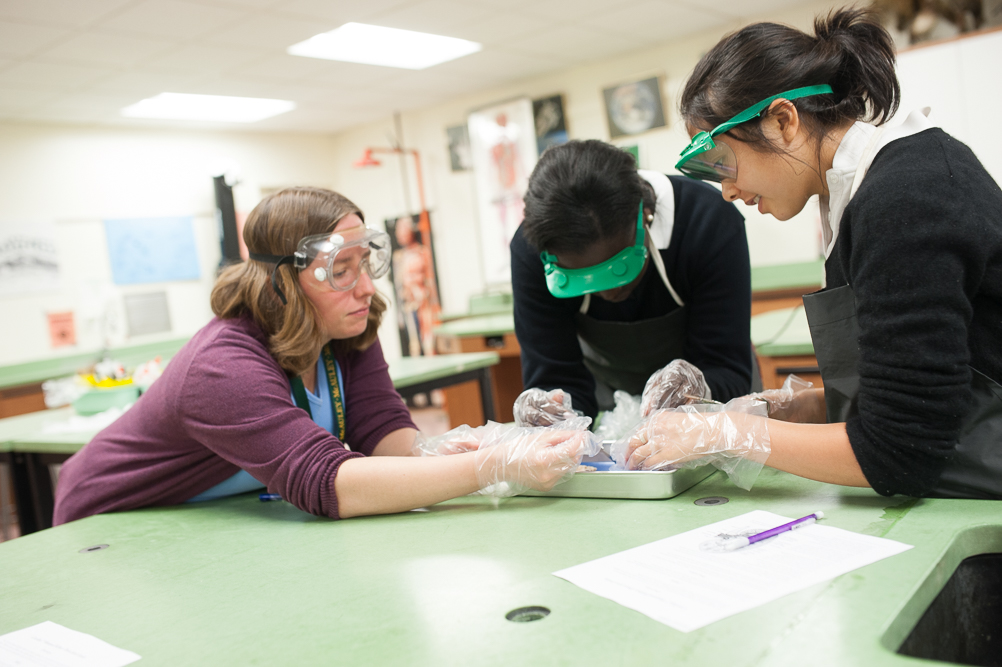 The Maine Girls' Academy offers a rigorous college preparatory curriculum, where students are required to carry the equivalent of seven academic courses each year, earning a minimum of 24 Carnegie Units to graduate:
Subject
Credits
English:
4
Mathematics:
3
History & Social Humanities:
7
Science (Bio/Lab):
3
Foreign Language:
3
Fine Arts:
1
Physical Education:
1
Health:
.5
Technology:
.5
Electives:
1
Grading System
A: 93-100
B: 85-92
C: 77-84
D: 70-76
*PE and Pass/Fail not included in GPA
Weighting
+8: AP
+5: Honors
Weighting occurs only in the calculation of the cumulative grade point average. Individual course grades are unweighted on the transcript.
Seven Advanced Placement courses are offered (some on a rotating basis), providing students with college credit and allowing them to pursue upper-level courses, a double major or study abroad opportunities in their post-secondary studies. MGA's AP courses include: AP English Language & Composition, AP English Literature & Composition, AP Calculus AB, AP Biology, AP Statistics, AP U.S. History and AP U.S. Government.
All courses at The Maine Girls' Academy are designed to provide students with strong foundational skills that will prepare them for the challenges of more advanced study and the richness of life that comes from the realization that learning is a life-long process. Creative, dedicated teachers encourage our young women to develop skills, take risks and think critically. An interactive teaching style, within each of the departments listed below, develops student confidence and nurtures a desire to learn. Click here to view our Program of Studies.
For more information, please contact Rebecca Redlon, Academic Dean, at (207) 797-3802 ext. 2054.